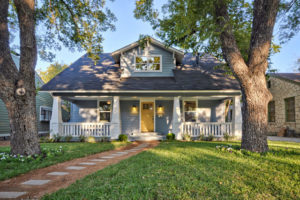 Eagle Roofing & Construction understands that spring means April Showers, and that also means severe weather for your roof. As a solid roofing provider for the Dallas, Plano and Frisco areas for many years, we have a commitment to our customers long after our job is complete. We are here with some helpful tips to keep the weather out this season.
"If you don't like Texas weather just wait a minute, it'll change." This old saying rings so true, especially in the Frisco and Plano area. Wind speeds during heavy storms can cause severe damage to shingles that are common on most homes in the North Dallas Area. Intense and localized micro-burst of wind cause areas of your roof to be left victim to the elements; which are the leading cause of most leaks in the home.
Proper maintenance and preventive measures will ensure less roofing repair over time, which saves you time and money in the end.
5 Roofing Maintenance Tips For This Spring:
Inspect your roof regularly for any debris or missing shingles. Missing shingles expose your roof to the elements and the debris can clog drains and gutters.
Check/ Clean all gutters regularly and make sure water is flowing freely. This will help prevent future leaks.
Make sure trees and shrubs are not rubbing the roof, and clear from causing damage.
Following severe weather, inspect your roof for any leaks or missing shingles. This will save you costs in future repair work.
DO NOT PRESSURE WASH YOUR ROOF!!! This can be damaging to shingles exposing your roof to the elements.
Eagle Roofing & Construction is proud to be serving the Frisco and Plano Area, with all it's residential and commercial roofing needs. With our No Obligation Free Estimates, call 214-952-0983 or email us today, to see what Eagle Roofing & Construction 's long proven track record can do for you.