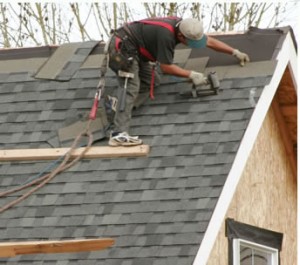 Residential Roofing Services
What most residential homeowners desire is a roof that will not only last a long time, but won't cost an arm and a leg to install. Most residential roofs are replaced, or at least repaired, every ten years. By carefully choosing your residential roofing company, you can help reduce the cost of replacement or push it far into the future.
Our residential customers are very important to us. Our mission is to provide the absolute best service from your first call, through the re-roofing process and beyond.
Your roof is not only the CROWN of your home, but also your first line of defense against the elements. High-quality materials are crucial in providing you with an aesthetically pleasing and long lasting roof. We only install the highest quality materials on our projects.
In regards to residential roofs, there are two basic types of roof structures – Low slope, flat, and Pitched. Specific materials are required for each type.
Knowing the correct type of roof material for your roof structure is imperative to the effectiveness and life span of your roof.
Asphalt Shingles
By far and away the number one covering over the steep-sloped roofs of the United States and Canada are asphalt shingles.
Metal Roofing
The premier roof for a home, metal roofs furnish building designers and owners with a world of choices; from system design to type of metal to a rainbow of color options.
Slate Roofing
Slate roofing systems are simple and beautiful roofing systems available in a variety of colors and textures, allowing designers to customize virtually every installation.
Tile Roofing
Tile roofs endure some of nature's toughest elements; yet despite the harshest weather, concrete and clay have been proven to resist wind, hail, rain, earthquakes and even fires.
We are experts in this area, we will not cut corners.
Buying a new roof system is an important investment. Before you spend your money, spend time learning how to evaluate roofing contractors. You should insist on working with a professional roofing contractor.